@all
Jai Jinendra Sadharmi,
JinSwara team is glad to complete four years of its digital journey this August.
On this occasion, you are cordially invited to join the team & experts for the conference meeting on the journey of JinSwara and JinSwara Forum, a talk about our future endeavors & some exciting surprises.
Date: 03 September 2021
Time: 9:00 PM IST
Link: https://jinswara.com/join-call
Chief Guest: Shri Ajit Ji Jain, Vadodara
Special Guest: Shri Vikas Ji Chabbra, Indore
For further details, you can contact our team members.
Mark your calendar today! Be the guest of honor!
Regards,
~ Team JinSwara
[email protected]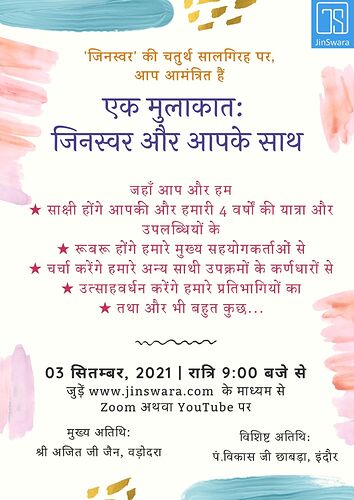 Recording: